THERMISTOR SENSOR
Solution
Proposal of optimal
temperature sensor
Challenge
Hope to discuss the structure and shape of the sensor
Looking to measure the temperature accurately.
Do not know what thermistor should be used.
Do not know if the thermistor currently in use is the most optimal.
Please make a proposal that includes the mounting method and installation method.
Solution Overview
Adopted in a wide variety of products by making full use of core technology
Making full use of ceramic material design technology, resin material design technology, thermistor sensor design technology, and reliability evaluation technology, we have a track record of adopting various thermistors for air conditioning system applications, LED headlight applications, xEV / in-vehicle applications.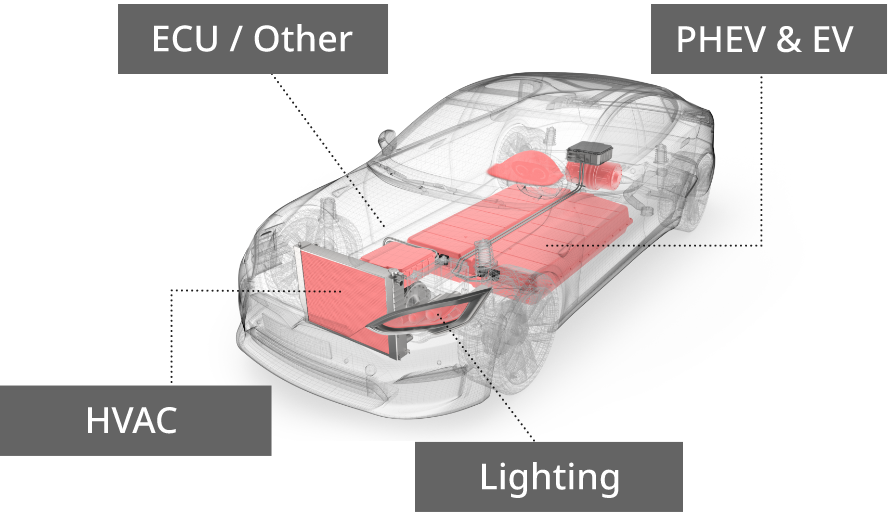 ECU / Other

Power steering
PCB / Flex temp
PHEV & EV

Inverter
DC-DC converter
Motor
Battery pack
OBC
Thermal reactor
Electric pump
HVAC

Lighting

Thermistor
Sensor
CORE TECHNOLOGY
Ceramics material
design technology
XRD analysis
SEM-EDS analysis
Particle size distribution measurement
Surface area measurement
Thermistor sensor
design technology
Transmissive X-ray
X-ray CT structure analysis
Heat conduction analysis
Stress analysis
Resin material
design technology
FT-IR analysis
TG-DTA、DSC、TMA analysis
Rheometer measurement technology
Karl Fischer moisture meter measurement technology
Long-term accuracy
evaluation technology
High temperature environment
High temp, high humidity environment
Low temperature environment
Thermal shock testing (in air / liquid)
Vibration test (〜20G)
Various strength testers
Effect
Before

After the temperature cycle test, the sensor resin cracked. The stress simulation revealed that the stress was concentrated due to the mismatch of the resin materials.

After

By changing the resin material, it is verified by simulation that the stress is relieved, and a highly reliable sensor design is achieved.
ADVANTAGE
ADVANTAGE

01

We offer a wide range of sensors for various applications and provide you with the optimal sensor solution.

ADVANTAGE

02

Utilizing analysis equipment and technology unique to material manufacturers, we develop and offer thermistor element materials that meet the needs of our customers.

ADVANTAGE

03

We have a track record of supplying many in-vehicle sensors to our customers. We also support a wide variety of reliability tests.
OTHER SOLUTIONS
Other solutions for thermistor sensor
Other related solutions
This solution utilizes
Mitsubishi Materials' thermistor sensor.