AuSn PASTE
Solution
Water-soluble paste,
Cleaning-free paste
Challenge
Hope to reduce the cost of the cleaning process
Do not want to carry out the cleaning process using the dedicated cleaning solution, and want to eliminate the cleaning process and increase work efficiency and reduce cost.
Flux residue cleaning with cleaning chemical contaminates the device surface.
Looking for materials that does not contain halogen.
Solution Overview
■ Water-soluble paste
It is a product that does not contain rosin and uses an alternative resin that is soluble in water. In addition, it is a halogen-free product that is environmentally friendly.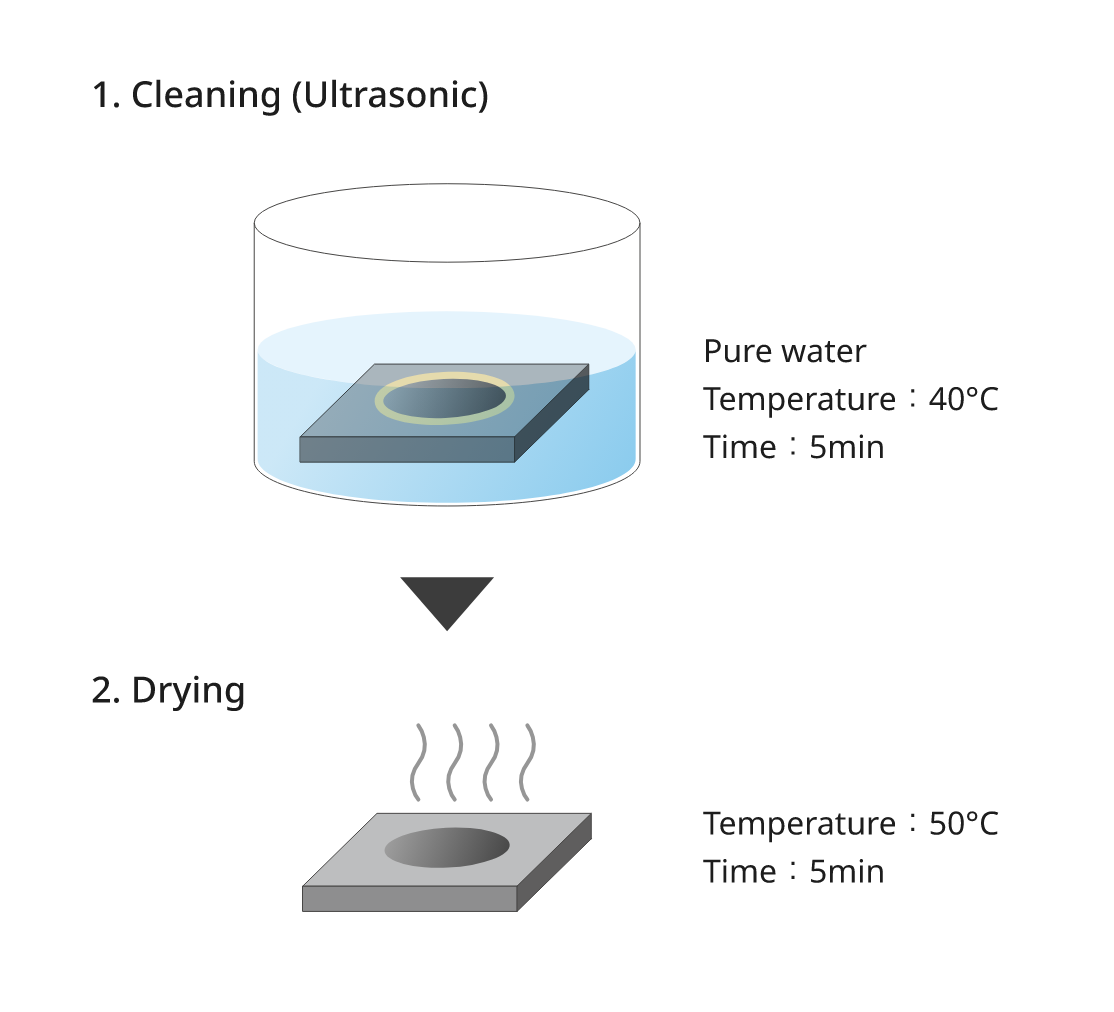 ■ Cleaning-free paste (formic acid reflow only)
Newly developed flux that thermally decomposes during reflow. No flux residue remains and cleaning is not required. It is also a halogen-free, environmentally friendly product.
Effect
■ Water-soluble paste
While conventional solder paste consists of rosin-based flux and cannot be cleaned with water, the residue from water-soluble flux can completely be removed with water alone.
Before

AS2 (ref.)

After

AS2 (ref.) After Cleaning w/water

※Note: The black part indicates the flux residue.
Before

MF1 (Water-soluble)

After

MF1 (Water-soluble) After Cleaning w/water
SEM images of solder after cleaned with pure water
■ Cleaning-free paste
Achieves good wettability and flux-residue-free (= no cleaning required) by developing a paste suitable for reflow in a formic acid atmosphere.
Before

SEM Conventional paste

After

SEM Cleaning-free paste
Before

X-ray Conventional paste

After

X-ray Cleaning-free paste
ADVANTAGE
ADVANTAGE

01

The water-soluble paste can reduce the cost of both the cleaning solution and liquid waste treatment cost.

ADVANTAGE

02

The cleaning-free paste also significantly reduces the process cost and tact time.

ADVANTAGE

03

Since no cleaning solution is used, contamination of the airtight package is suppressed.
OTHER SOLUTIONS
Other solutions for AuSn paste
Other related solutions
This solution utilizes
Mitsubishi Materials' AuSn paste.