Download Documents
* All materials are available for download on the download page
AuSn PASTE
High-reliability lead-free, high-temperature solder is
a paste-type bonding material made of Au-Sn alloy.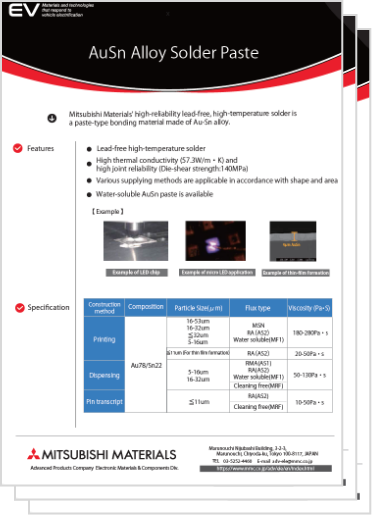 Content
Comparison of thermal resistance
Comparison of shear strength
AuSn phase diagram
Surface tension of the molten@330℃
Void testing data
Features
Specification
Application Examples
SOLAR HEAT-RAY SHIELDING (ITO)
This high-performance paint is highly transparent and shields solar heat-ray but also transmits electromagnetic waves such as those used by ETC equipment.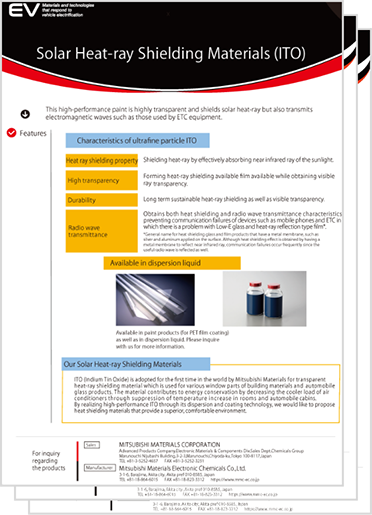 Content
Features
Visible light transmittance
Solar transmittance
Haze
Solar energy balance
Spectral transmittance factor
INSULATING SUBSTRATE
Due to its high reliability and high thermal conductivity,
it has been adopted for a cumulative total of approximately 10 million xEVs.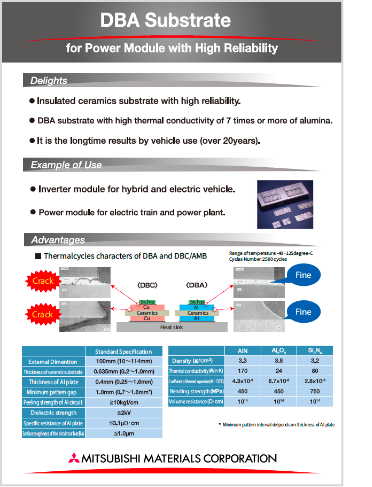 Content
Heat cycle test comparison
Features
Specification
Application Examples