Mitsubishi Materials Corporation ("MMC") is pleased to announce that we have completed the acquisition of a minority stake in the Mantoverde copper mine in Chile.
On February 7, 2020, MMC announced that it had entered a share subscription agreement with Mantos Copper Holding SpA (Headquarters: Santiago in Chile, Executive Chairman: John MacKenzie, "MC") to acquire a 30% stake in Mantoverde S.A. (99.99% owned by MC, 0.01% owned by individual shareholders, "MV"), which operates the Mantoverde copper mine in Chile. MMC will participate in the construction of the building facilities including a concentrator and a tailings dam to support the extraction and processing of sulphide ore (Mantoverde Development Project, "MVDP" or "Project").
The acquisition was subject to the closing conditions including arrangement of the project financing. Today, we are pleased to announce all the closing conditions have been satisfied and we have formally acquired a 30% stake in MV for a total consideration of approximately US$275m (approximately JPY29 billion). MMC investment also includes the pro-rata portion of the construction capex as well as adjustments for working capital since the original announcement in February 2020.
Furthermore, as part of the financing for the Project, MMC agreed to provide a US$60m (approximately JPY6.3 billion) Cost Overrun Facility (credit facility to cover potential cost overruns until the completion of MVDP, "COF"), which provides MMC with incremental copper concentrates produced by the Project. As a result, including the offtake entitlement from its 30% ownership stake, MMC expects to be entitled to approximately 42% of the total copper concentrate of MV.
MMC's long-term strategy for the metals business, as per our medium-term management strategy, is to "create a sustainable portfolio of raw materials consisting of clean copper concentrates and E-Scrap", and we will work to achieve this goal by steadily advancing the Project and securing stable supply of high-quality copper concentrates with low impurities.
The Group's vision is to become "a leading company that contributes to a sustainable society by creating new materials for people, society, and the Earth through unique technologies" based on the corporate philosophy of "for people, society, and the Earth". We will continue to contribute to the creation of a prosperous society by providing non-ferrous metal materials and high value-added products.
RBC Capital Markets acted as the exclusive financial adviser to MMC and Allen & Overy and Morales & Besa acted as MMC's legal advisors in connection with the transaction.
<Appendix>

Overview of Mantoverde Copper Mine
Property Holder:

MMC (30%), MC (69.99%), individual shareholders (0.01%)

Location:

Atacama Region III of Chile


45 km from the coastline at 880 m.a.s.l.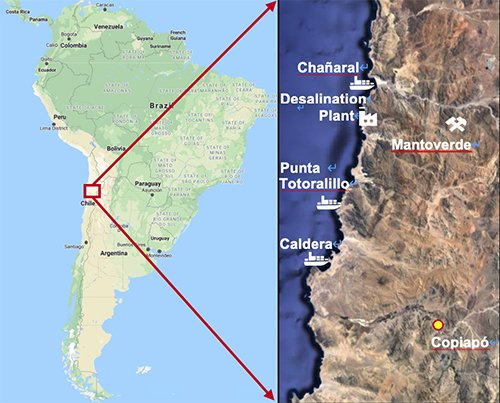 Total Mineral Resources:

5.7 million tonnes of contained copper

Total Mineral Reserves:

2.1 million tonnes of contained copper

Project CAPEX:

US$784 million

Start-up of MVDP:

2023

Mining Method:

Open Pit

Total Copper Production:

1,700 kt over mine life

Initial Mine Life:

2041
<Contact details for inquiries>
Public Relations Dept., Corporate Communications Dept.:+81-3-5252-5206