Mitsubishi Materials Corporation (President: Hiroshi Yao, Capital: 119.4 billion yen, hereinafter "MMC") informs that its Electronic Materials and Components Company has successfully inaugurated a new manufacturing subsidiary (hereinafter "The Company") in the Lao People's Democratic Republic on February 19, 2015 at the site. MMC had launched the establishment of such subsidiary to provide framework for an increase in the production of thermistor sensors - the mainstay products of the Electronic Devices Business - in April 2014. Approximately 50 participants attended the ceremony, including guests such as the Deputy Minister of Planning and Investment, Deputy Minister of Industry and Commerce, Deputy Minister of Health of the Lao People's Democratic Republic, and the Ambassador of Japan to the Lao PDR, H.E. Mr. Hiroyuki Kishino. The Company will start full-scale production at this plant at the end of March this year.
Since sales of home appliances, for example air conditioning and refrigerators, remain strong in China's large-scale market, MMC expects further expansion in this market of the demand for appliances, and consequently for thermistor sensors which are mounted to said appliances. As regards future prospects, MMC is also looking towards the expansion of sales volume in thermistor sensors for motorcycles and the like in Southeast Asia.
MMC considers the "strengthening of global competitiveness" as one of its growth strategy as stated in its medium-term management plan, Materials Premium 2016. That is why MMC is committed to achieve its growth by further developing its business mainly in the emerging countries through expansion of production and sales locations overseas.
Under the Materials Premium 2016 medium-term management plan, and through the production system upgraded with the new manufacturing base in Laos, the Electronic Materials and Components Company of Mitsubishi Materials Corporation will continue to strive for sustainable growth by strengthening global competitiveness and steadily capturing business opportunities in the expanding market of sensors.
Overview of the manufacturing subsidiary:
Company name

MMC Electronics Lao Co., Ltd.

Location

Vientiane, Xaythany District (VITA Park), Lao PDR

Business fields

Manufacturing and sales of thermistor sensors

Established

April 7, 2014

Start of operation

March 2015 (scheduled)

Number of employees

approx. 380

Capital

4 million US$ (approx. 400 million yen)

Major shareholders and shareholding ratio

Mitsubishi Materials Corporation 75%
MMC Electronics (Thailand), Ltd. (MMC consolidated subsidiary) 25%
Ceremony of completion of the plant construction in Lao PDR held at the site (general view)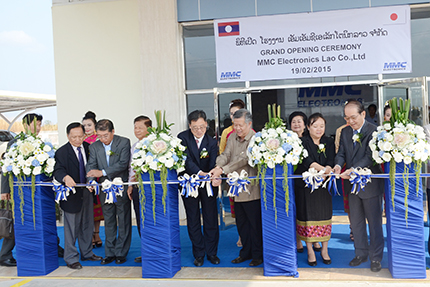 H.E. Mr. Hiroyuki Kishino, Japan's Ambassador to the Lao PDR, and Mr. Hiroshi Yao, President of Mitsubishi Materials Corporation, attend the ribbon cutting ceremony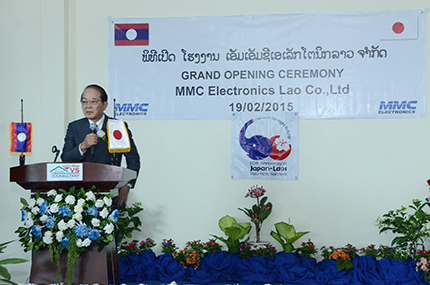 Message from Mr. Hiroshi YAO, President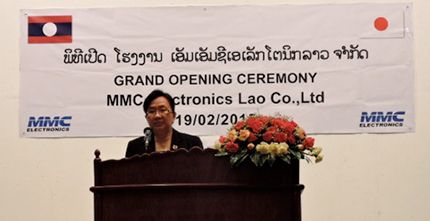 Ms. Khemmani Pholsena, Minister of Industry and Commerce of Lao PDR, delivers a congratulatory address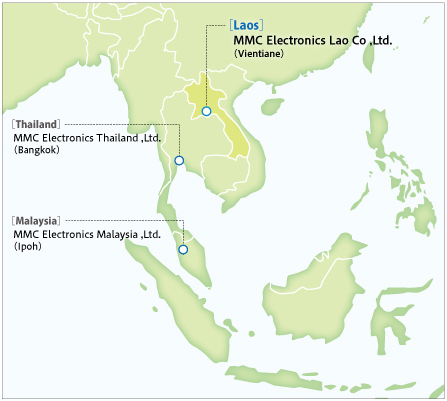 Southeast Asia and Indochina base