DIASALT Co., Ltd. (President: Kazufumi Yanaga, Head Office: Nakano Ward, Tokyo), a consolidated subsidiary of Mitsubishi Materials Corporation (President: Hiroshi Yao, Capital: 119.4 billion yen), recently became the first company in the Japanese salt industry to acquire Halal Certification for its salt intended for dietary consumption. The certification was issued by the Japan Halal Association (NPO).
Halal Certification is issued for high-quality and healthy food products, cosmetics and pharmaceuticals which are manufactured through safe and clean processes according to Islamic law. Halal Certification shows that products can be used by Muslims with peace of mind.
Using clean sea waters of Gotonada, Nagasaki Prefecture as its main ingredient, DIASALT manufactures safe and high-quality dietary salt under excellent hygienic conditions, thus offering peace of mind to consumers. DIASALT has now gone one step further to satisfy conditions defined by Islamic law, enabling the company to acquire Halal Certification.
Currently, DIASALT's dietary salt is widely used by a variety of food and beverage manufacturers in Japan. In addition to being used in soy sauce, miso sauce, vinegar, sauces and other seasonings, the salt is mainly used in Japanese foods such as udon noodles, soba noodles and pickled vegetables, as well as bread, ramen, butter, marine products, retort pouch foods and beverages.
By acquiring Halal Certification, usage of DIASALT's dietary salt is expected to spread even further as a product which can be used by Muslims with peace of mind. This includes Muslims living in Japan and Muslim visitors to Japan which are expected to increase in the future.
Furthermore, due to increase health consciousness, Japanese food (including processed food) is gaining in popularity and spreading throughout the world, including Islamic regions. Amidst such trends, an increasing number of Japanese food manufacturers expect to enter overseas markets. Muslims account for about 23% of the global population (approximately 1.6 billion people) and are a promising consumer group. Halal Certification is becoming increasingly important for food manufacturers seeking to globalize their business.
DIASALT seeks to expand its business by supplying dietary salt to customers such as domestic and international food manufacturers, the food processing industry which handles airplane food, and the restaurant industry. Moreover, in addition to food products, DIASALT expects to enlarge its business in the future by supplying certified products to other industries requiring Halal Certification. Examples include pharmaceuticals and cosmetics.
Based on our corporate philosophy of "for people, society and the Earth," MMC has established our medium-term management plan Materials Premium 2016. This plan defines a strategy for overall Group growth consisting of several objectives, one of which is "strengthening global competitiveness."
As a leading company in the salt industry, DIASALT will work to enhance its ability to compete globally by continuing to promote the acquirement of Halal Certification. Through the supply of safe products which offer peace of mind, DIASALT will contribute broadly to society.
*...Based in Japan, the Japan Halal Association is a Halal certification body that has been approved by the Department of Islamic Development Malaysia (JAKIM) and Singapore's Majlis Ugama Islam Singapura (MUIS), both of which are government institutions.
Photograph①:DIASALT's Sakito Plant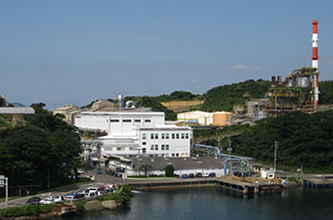 Photograph②:Facilities (two-stage fine sand filtering)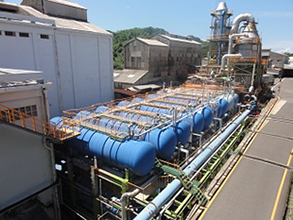 Photograph③:Example of Halal-certified product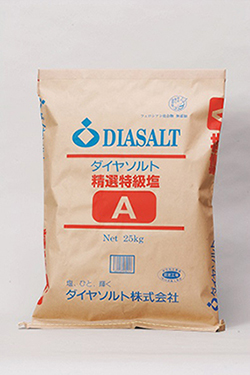 (Reference) Company Information
Name
DIASALT Co., Ltd.
Business activities
Manufacturing and sales of salt. Manufacturing and sales of chemical products such as potassium chloride and magnesium chloride.
President
Kazufumi Yanaga
Capital
2.5 million yen
Shareholders
Mitsubishi Materials Corporation (95%), Mitsubishi Corporation (5%)
Head Office
Harmony Tower, 4F
1-32-2 Hon-cho, Nakano Ward, Tokyo
Offices
Head Office, Sakito Plant (Sakito-cho, Saikaishi City, Nagasaki Prefecture), Fukuoka Branch, Osaka Branch, Hokkaido Office
Number of employees
260 (includes subsidiaries; current as of June 30, 2014)
Net sales
6,014 million yen (fiscal 2013)
DIASALT website:
http://www.diasalt.co.jp/
Inquiries regarding certification to DIASALT Co., Ltd.
Quality Assurance Department

03-5304-8681
Inquiries regarding products to DIASALT Co., Ltd.
Tokyo Branch

03-5304-8682

Osaka Branch

06-6838-8230

Fukuoka Branch

092-475-2127

Hokkaido Office

011-746-2210